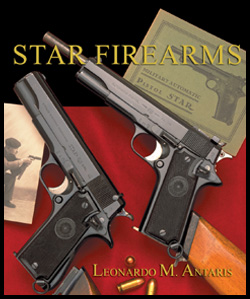 UNIT PRICE:

$115.00 USD

NAPCA members qualify for a 10% rebate with each book purchased.

Satisfaction guaranteed! Undamaged books may be returned within 30 days for full refund.

Dealer pricing available for pre-paid lots of 6 books. Inquire.

SHIPPING & HANDLING:

$ 7.00* USD per book (US 50 States)
$30.00* USD per book (Foreign)

TO ORDER:

Online Ordering Available

Send check or money order to:

FIRAC
1230 E. Rusholme St. Suite 107
Davenport, IA 52803 U.S.A.
phone: 1-563-326-8181
fax: 1-563-326-8184

* Unless otherwise specified, shipping to domestic addresses will be insured UPS or insured media mail. Books directed to sites in non-continental United States and abroad will only be by insured media mail. Foreign orders allow 6-8 weeks for delivery. Add additional postage Global Express Mail or Airmail.
Star Firearms
Leonardo M. Antaris

Star Firearms, long and eagerly awaited, is now available! The following synopsis only includes the highlights.

A short history of 20th century Spain and a review of the Spanish arms industry from 1860 through the Spanish Civil War is followed by the specifics of Star's production. Each of Star's many models is placed in its historical context. The most important mechanical features are reviewed and an explanation is given as to how and why the guns changed over the course of their production. Prototypes, production guns, and presentation pieces have been painstakingly photographed with inserts of the most interesting features and markings. Tables illustrating proof marks and codes supplement extraordinary spreadsheets of specific serial numbers and annual summaries. Additional tables show pistols procured by the Guardia Civil and Spanish Police, and specify Star's exports to Bulgaria, Germany, and Switzerland during WWII. The handgun section is followed by chapters covering Star's .22 LR rifles and submachine guns. Materials in the appendix include the point criteria to import handguns into the United States, a comprehensive list of Spanish trade names matched to the manufacturer for arms made prior to the Spanish Civil War, and a summary of Star's global exports 1960 - 1989. Noted firearms author and historian Joseph J. Schroeder Jr. describes Star Firearms as a "first-class book, one that deserves a place on the bookshelf of every student of 20th century small arms."

This slightly oversized hardbound text measures 9' x 11' and contains 640 pages. There are over 1100 high-resolution B/W photos in addition to 47 pages of full color that emphasize engraved and gold damascened pistols. The book is a must for any serious collector or arms historian, for regardless of their interest, the high quality sets a new milestone in presentation.

FIRAC published 55 deluxe leather bound numbered texts with gold gilt edges @ $225.00 per book.