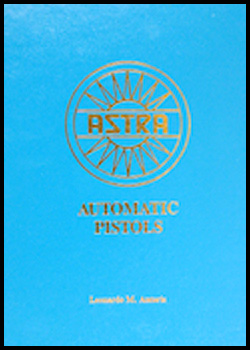 UNIT PRICE:

$45.00 USD

NAPCA members qualify for a 10% rebate with each book purchased.

Satisfaction guaranteed! Undamaged books may be returned within 30 days for full refund.

Dealer pricing available for pre-paid lots of 16 books. Inquire.

SHIPPING & HANDLING:

$ 7.00* USD per book (US 50 States)
$25.00* USD per book (Foreign)

TO ORDER:

Online Ordering Available

Send check or money order to:

FIRAC
1230 E. Rusholme St. Suite 107
Davenport, IA 52803 U.S.A.
phone: 1-563-326-8181
fax: 1-563-326-8184

*Foreign orders shipped insured media mail. Allow 6-8 weeks for delivery. Add extra postage for expedited or first class shipping.
Astra Automatic Pistols
Leonardo M. Antaris

THE FIRST COMPLETE REFERENCE TEXT DEVOTED EXCLUSIVELY TO ASTRA'S AUTOMATIC PISTOLS AND THEIR ACCESSORIES

How rare is your Astra pistol?
Pistol production is detailed from 1911 and reviewed through the 1980s. After a presentation of Spanish proofs, commonly encountered crests, and Astra's engraving codes, attention is turned to individual models. Each is discussed from a historical and technical perspective, followed by clearly tabulated serial number ranges, production dates, and special orders.

When was it made? How many were manufactured?
The text contains hundreds of crisp photographs. Seldom seen prototypes and Astra copies are identified and indexed for rarity. Standard production questions are covered with a thoroughness that leaves no stone unturned.

Was it part of a military contract?
Destination tables itemize specific pistols shipped to the Spanish military, German Condor Legion, Nazi Germany, Chilean Air Force, Portuguese Navy, and various other militaries. Complementing this information are notes on pistol shipping boxes, holsters, shoulder stocks, and other accessories.

This outstanding and thoroughly researched new book covers all Astra pistols in detail and relates them to the history of Spain and the Astra factory... (It) opens a new frontier in pistol collecting and will be sought after by collectors and book dealers alike. It gets an A+ from this collector and is highly recommended to all."
- Jan Still, author, Axis Pistols, Third Reich Lugers, and Imperial Lugers

"I recently received, and reviewed favorably, Dr. Antaris' book on Astra pistols, and was delighted by it."
- Pete Dickey, Publications Division, National Rifle Assoc. of America

"The text is presented in a chronological and easily referenced format. The charts and tables include a tremendous amount of data which has never before been available, yet which is of paramount interest when researching a particular firearm... The cutaways and prototypes are fascinating... Dr. Antaris is to be congratulated for this definitive publication on Astra pistols."
- Steven Fjestad, author and publisher, Blue Book of Gun Values